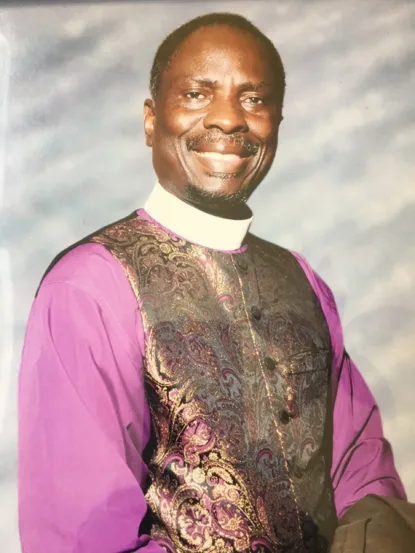 Rev. Dr. Isaac Arku, General Overseer, Light of the World Christian Ministries International
Rev. Dr. Isaac M. Arku is the Founder and the General Overseer of The Light of the World Christian Ministries International. Adhering to the call of God, "Send My Light to the World," Dr. Arku took the heavenly vision seriously and surrendered his life completely into the outreached hands of the Savior.
In the late 1980s, in obedience to God and the direction of the Holy Spirit, Dr. Arku, after his ministerial preparation, with his dear wife Rev. Maureen by his side, began the glorious journey to the world with the gospel, Light of Jesus Christ our Lord. The vision became reality as they saw many souls saved and delivered from the utter darkness of Satan to the glorious light of Jesus Christ.
As God's servant, Rev. Arku carries a unique anointing as a preacher, teacher, counselor, author, husband and father. The heavenly vision "Send My Light to the World," has taken him to many countries of the world preaching and teaching the word of God setting people free from sin, sickness, fear, anxiety, depression and other psychosomatic disorders. His passion is for souls and the welfare of all people.
Commenting on his burning passion and burden for souls, Dr. Arku asserts, "Growing up as a Pastor's kid, I saw many troubled and shattered lives that were put together by God. I can still see the smiling and empathic face of my father as he helped these people find grace and meaning to life. The loving, caring, compassionate, and respectful attitude of my father toward all people had a great impact on my early life, and I believe that prepared me to love, care, respect, and help others in their time of need.I am extremely grateful to God for the experience and the calling."
Today Rev. Dr. Arku continues to reach the world with the light of Jesus through the various established Light of the World Assemblies, School of Ministry and other pilot ministries.
Dr Arku is also a Licensed New State Mental Health Counselor. He is a Certified Member of American Society of Christian Therapists (ASCT), & Certified Member of American Association of Christian Counselors (AACC). Dr. Arku & his beloved wife Rev. Maureen Arku are blessed with four beautiful children; Charity, Isaac Jr., Faith, and John-Elijah.